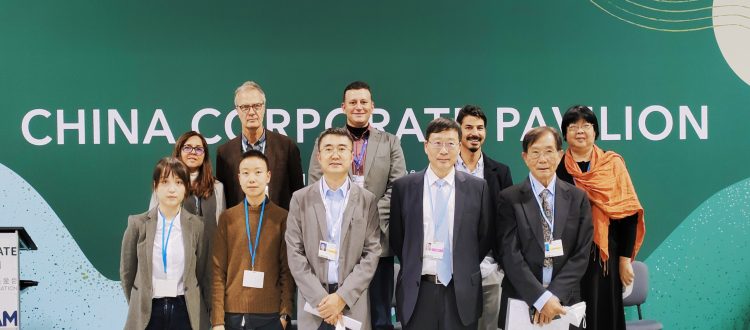 GEI Hosted the COP26 Side Event on China-Brazil's Sustainable Agricultural Development
(November 8, 2021, Glasgow) Global Environmental Institute (GEI) hosted the side event – Supporting the Sustainability of Agricultural Supply Chain between China and Brazil via Policy Transformation and Techniques Innovation – on November 8. Academic researchers, entrepreneurs, NGO representatives, and government officers from China and Brazil talked about the potential cooperative opportunities on China-Brazil sustainable agriculture development and analyzed the approaches of achieving the new carbon and illegal deforestation reduction goals, such as establishing and refining the environmental certification schemes and national park system, and promoting sustainable community development in rural areas.
Ms. Mariane Crespolini, Department of Sustainable Production and Irrigation of Brazil's Ministry of Agriculture, Livestock and Food Supply, delivered an opening remark. Ms. Crespolini interpreted Brazil's policy reforms in agriculture in the past decade, including policy mechanisms and technology upgrades. She also introduced the national "ABC plan" regarding agricultural adaptation and carbon emission reduction. The plan aims to achieve the goal of reducing deforestation through effective land use.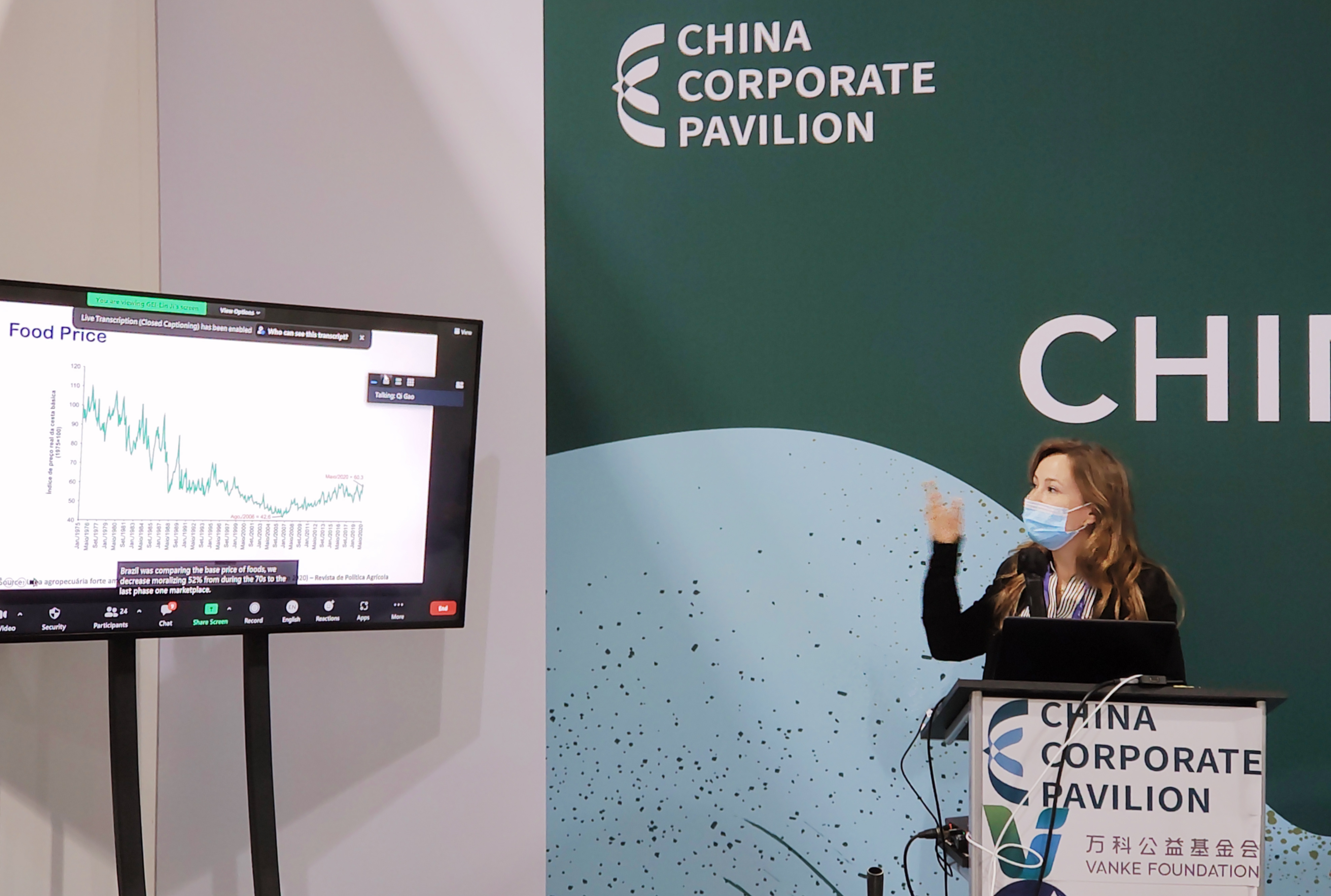 Ms. Mariane Crespolini is introducing Brazil's agricultural policy
Mato Grosso, one of the states of Brazil located in the Central-West region, has now become the leader in the national grain production and one of the essential soybean suppliers to China. In his keynote speech, Mr. Alex Sandro Marega, Executive Secretary of the environment of Mato Grosso, introduced the state's achievements in ecosystem conservation and emission reduction. To balance agricultural production and protection, the state government has implemented a series of innovative carbon neutrality projects, such as the jurisdictional initiative – the "Produce, Conserve, Include (PCI)" and aims to establish an environmental certification system.
Mr. Alex Sandro Marega (left) is giving a keynote speech
Mr. Cao Derong, Chairman of China Chamber of Commerce of Foodstuffs and Native Produce (CNFA), introduced the current bilateral trade between Brazil and China and the future of China-Brazil relations in the context of COVID-19. Mr. Cao Derong indicated that the deeper economic trend of China-Brazil cooperation in the past ten years is rooted in the highly complementary economic relations between the two countries. He pointed out that by the end of this year, the total trade transacted between China and Brazil is expected to exceed 120 billion US dollars, which will become a new milestone in the history of the China-Brazil trade.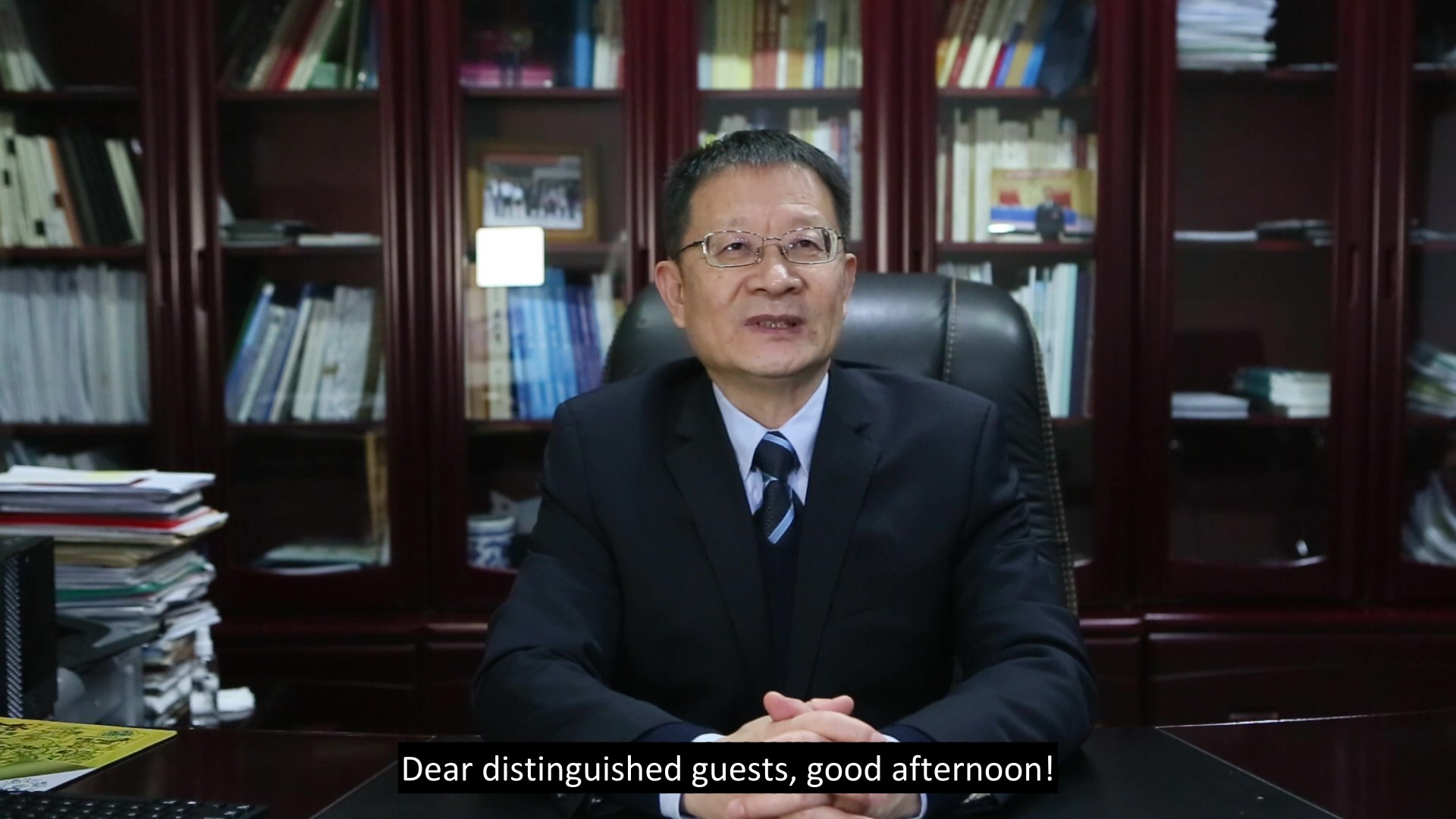 Mr. Cao gave the opening remark via video
In the section of the keynote speech, Dr. Wang Yi, Deputy Chief of the Institute of Science and Development of the Chinese Academy of Sciences and member of China's National People's Congress Standing Committee, provided some low-carbon strategies and deforestation solutions for Brazil, such as promoting rural community development and national park mechanisms improving. Based on official information and scientific research data, Dr. Zhou Zhiwei, Director of the Institute of Latin American Studies at Chinese Academy of Social Sciences, analyzed the types of bilateral agricultural investment between China and Brazil; Mr. Daniel Nepstad, Director of Earth Innovation Institute, advised on China-Brazil cooperation from the aspects of carbon neutrality, trade chain, carbon offsets, technology exchange, and diplomacy; Ms. Dandan, Manager of China Environmental United Certification Centre (CEC), explained the advantages of Brazil's carbon-neutral beef and to what extent this mechanism can be improved.
Experts from academia, international organization, and the chamber of commerce participated in the roundtable discussion regarding challenges and opportunities in policy transformation and techniques innovation. Dr. Kevin Chen, Qiushi Chair Professor of Zhejiang University, International Dean of China Academy for Rural Development (CARD), and senior research fellow at IFPRI interpreted the unsustainable factors of the supply chain from the perspective of national policies and market operations; Mr. Andre Vasconcelos from Global Canopy and (Intelligence for Sustainable Trade), Oxford emphasized the of Brazil's goal of ending illegal deforestation by 2028 and discussed the potential deforestation and climate change risks behind Brazil's agricultural products; Ms. Chen Ying, Director of the Grain and Oil Department at the China Chamber of Commerce of I/E of Foodstuffs, Native Produce and Animal By-products (CFNA) discussed the current certification mechanism in Brazil and how it can be better worked with the Chinese market.
In the end, Dr. Zhang Jiqiang, Board Chair of GEI, gave a closing remark to the conference. He hopes that partners and stakeholders from China, Brazil, and other countries will work together with GEI to contribute to the sustainable development of agricultural supply chains in China, Brazil, and the world.