GEI COP26 Side Event: The Future ASEAN-China Regional Cooperation on Energy Transition and Mangrove Conservation
On November 11, 2021, GEI held the "Energy Transition and Natural-based Solutions: Practices from ASEAN-China Regional Cooperation" side event on the UNFCCC COP26 to discuss with the experts and scholars some popular issues on climate change, such as international cooperation, the applications of GEI's toolkits in ASEAN countries, and the China-ASEAN mangrove conservation and energy transition.
Mr. Xie Zhenhua, China's Special Envoy on Climate Change and Co-chairman of Global Climate Action Initiative (GCAI), gave an opening remark for the side event. Mr. Xie said that climate change is a global threat for all humankind and one of the most significant challenges of our time. The US-China Joint Glasgow Declaration issued the day before the conference demonstrated that US-China cooperation is the only right choice. At the same time, addressing climate change needs the collaboration of China and the United States as well as the efforts of all countries and regions in the world. ASEAN countries are China's important comprehensive strategic partners. The establishment of the "China-ASEAN Mangrove Conservation Network" and the energy transition in the ASEAN region indicate the determination of the region to address climate change, which is essential for enhancing global climate actions.
Mr. Xie Zhenhua is giving the opening remark
Mr. Chen Dehai, Secretary-General of ASEAN-China Centre, delivered a keynote speech on China-ASEAN Green Cooperation. This year marks the 30th anniversary of ASEAN-China dialogue relations. Green and sustainable development cooperation has always played an essential part in enhancing the relations between ASEAN and China. Mr. Chen looked forward to strengthening exchanges and cooperation in climate change, environmental protection, biodiversity conservation, sustainable natural resource management, and other areas related to sustainable development. At the same time, he hoped that this conference could promote ASEAN-China's comprehensive cooperation in the energy transition of the ASEAN region and start a new journey of green collaboration between ASEAN and China.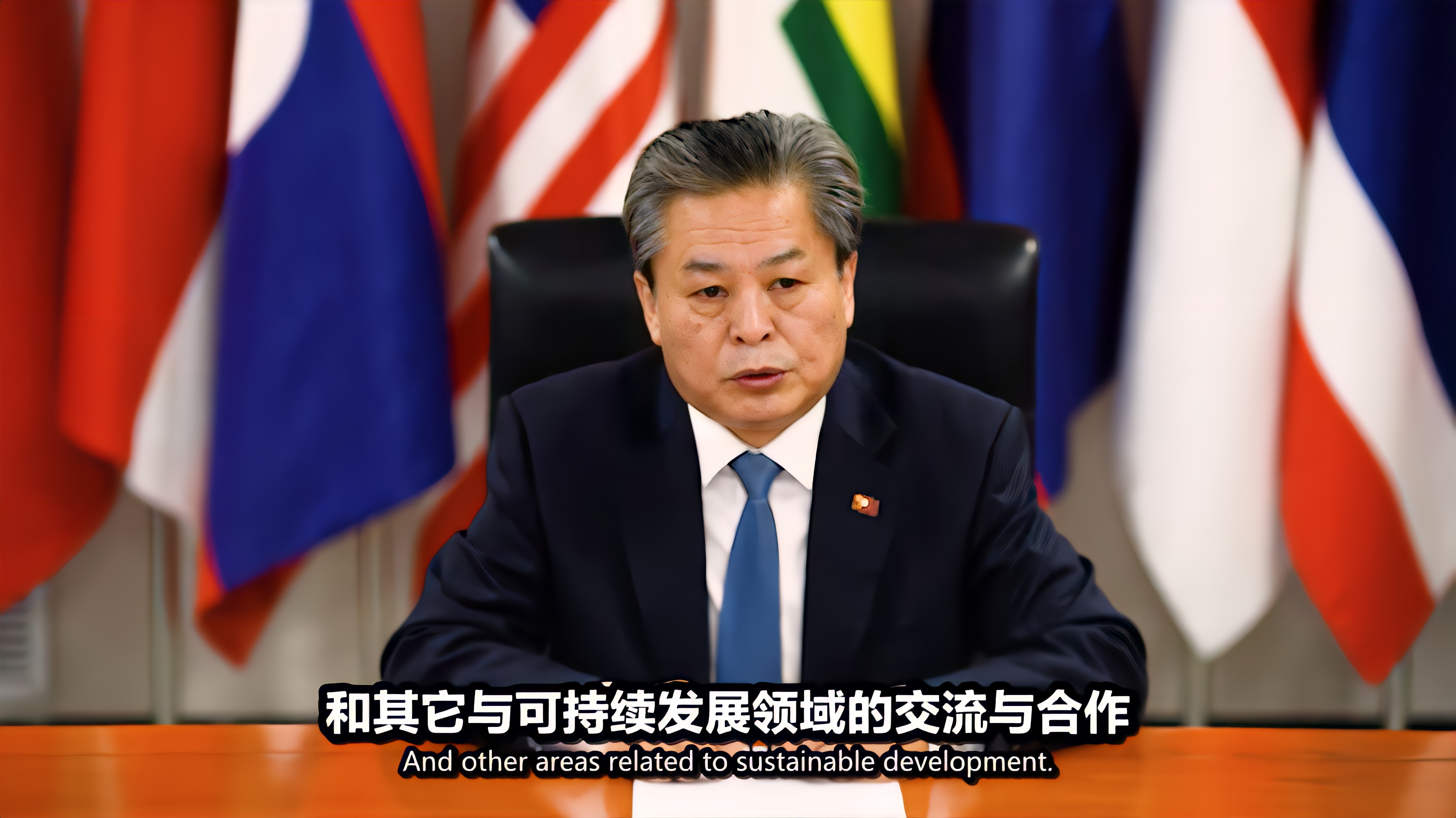 Dr. Xu Shengnian, GEI's Energy and Climate Change Program Manager, introduced GEI's Renewable Energy Implementation Toolkit (REI) used in China, Sri Lanka, Myanmar, Indonesia, and Vietnam. Subsequently, our partner organizations from Myanmar, Indonesia, and Vietnam interpreted in detail the projects cooperating with GEI in turn.
Dr. Zaw Min Naing, Deputy Director-General, Department of Research & Innovation(DRI), Ministry of Science and Technology(MOST), introduced Myanmar's renewable energy development and the challenges and opportunities the country is facing. He thought that regional and international cooperation could facilitate renewable energy development in Myanmar. Mr. Fabby Tumiwa, Executive Director of the Institute for Essential Services Reform (IESR), said that the Indonesian government should set more ambitious NDCs for mitigating greenhouse gas emissions to change the current energy consumption of crude oil and their products in Indonesia. Based on the report conducted by GEI and IESR, the data shows that Indonesia's utility-scale solar PV potential is 16 to 95 times above the current national official estimate, which is 207 GW.
A series of new policies indicates Vietnam's strong support for solar PV development in recent years. Nonetheless, Vietnam cuts rooftop photovoltaic feed-in tariff subsidies in 2021, and correspondently, the solar PV investment decreased. Ms. Nguy Thi Khanh, Executive Director of Green Innovation and Development, hoped policymakers could update and improve the existing policy framework to support and promote renewable energy development in Vietnam. Meanwhile, GreenID expects comprehensive cooperation with GEI on carbon neutrality in the future.
GEI Marine Conservation Program Manager – Ms. Fan Min elaborated on the existing threat and challenges for China-ASEAN mangrove conservation and introduced current projects carried out by GEI and our partners in the ASEAN countries.
Ms. Frances Camille Rivera is the Co-Founder and Program Director of Oceanus Conservation. Oceanus aims to promote community-based mangrove conservation in the Philippines. Its major works include community-participated mangrove planting, localized mangrove handbook making, and mangrove data platform construction. Oceanus helps local residents better understand the different types of mangroves and their biological features in different regions and enhances public awareness through public education.
From the perspective of scientific research and community participation, Ms. Fauzia Damyanti, Director of Yagasu Foundation based in Indonesia, shared their on-site mangrove conservation work. Ms. Damyanti introduced the organic mangrove batik and mangrove food products handmade by local women, demonstrating the effectiveness of community and nature-based sustainable development mode.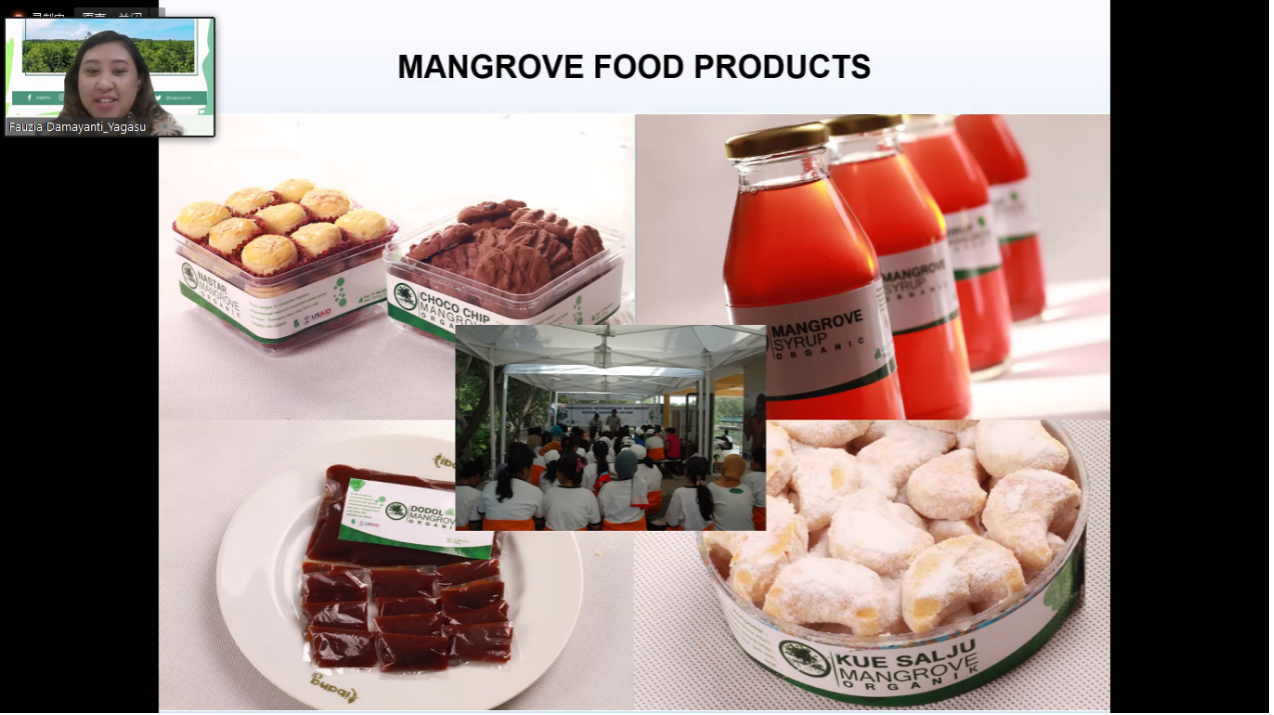 Mr. Li Haiyan, Secretary-General of GCAI, and Dr. Zhang Jiqiang, Board Chair of GEI, gave the ending remarks of the conference.