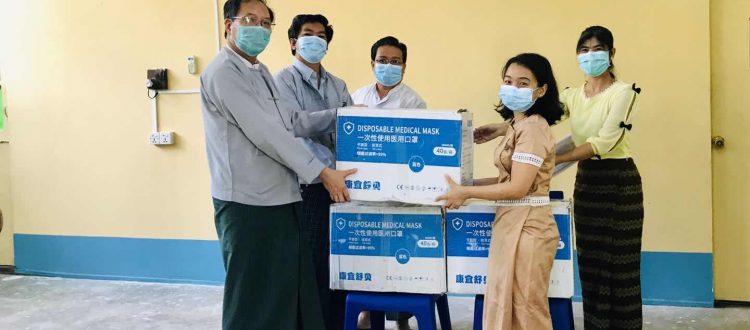 GEI Donates 32,000 Medical Masks to Partners in Southeast Asia
As the COVID-19 situation in China has gradually improved over the last two months, other areas of the globe have become increasingly affected by the global pandemic. As of now, over 4.5 million people have been confirmed to have been infected with the disease, while nearly 300,000 have perished from it worldwide.
Although most of the countries with the highest documented rates of infection are classified within the Global North, this fact belies some important details of the pandemic. First of all, many countries in the Global North have relatively to highly developed medical infrastructure, allowing for widespread testing of those who could potentially have been infected with COVID-19. Furthermore, the statistics do not show the differences in availability of protective equipment, such as medical masks and gloves, and preventive measures, such as clean, running water and soap for hand washing, between countries in the Global North and the Global South. The absence of these valuable resources in many Global South countries has placed citizens living in vulnerable conditions at an even greater risk of being exposed to the coronavirus. This danger becomes magnified further under conditions where they may not have adequate medical treatment available if they were to catch SARS-CoV-2.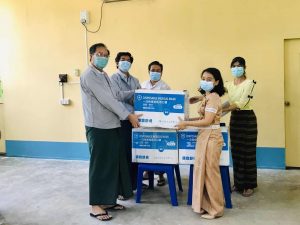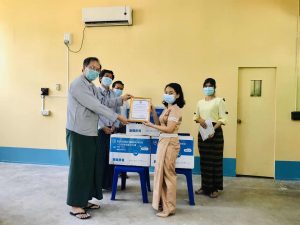 Throughout the COVID-19 crisis, despite limitations on travel, GEI has maintained close contact with our partners around the world. As we have grown increasingly concerned for their safety and health, we heard from organizations and ministries we work with in Myanmar and Indonesia that masks have been difficult to purchase in each country. Because China was forced to deal with the effects of the pandemic early on, manufacturing and availability of medical masks here had already increased several months ago. When we heard from some of our Myanmar and Indonesia partners that they needed masks, based on the ease of purchasing them here in China, we decided to help out. We asked each partner organization how many masks they needed, then purchased the requested quantities from a manufacturer in Shanghai. To get the masks to our partners, we hired several logistics companies that made sure they arrived safely.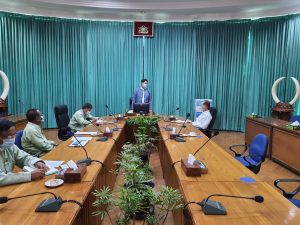 In the end, GEI contributed a total of 32,000 masks to government ministries, think tanks, NGOs, and minority communities across the two countries. We sent 20,000 masks in total to Burmese institutions (6,000 to the Ministry of Education's Department of Research and Innovation (DRI); 4,000 to the Forest Department; 4,000 to the Ministry of Livestock, Fisheries and Rural Development's Department of Fisheries; and 1,000 each to 4 Burmese NGOs).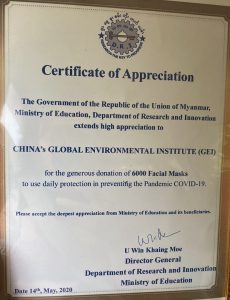 We sent an additional 6,000 masks to members the Wa State (3,000) and the Shan State Special Region 4 (3,000), ethnic minority regions within Myanmar. GEI is currently exploring the possibility of collaborating with groups from these two locations on joint efforts to combat the illegal wildlife trade. Their close proximity to the border between Myanmar and China's Yunnan Province would allow them to make significant contributions. The other part of the potential cooperation would include working with local Wa State and Shan State Special Region 4 communities to develop sustainable livelihoods as alternatives to hunting and poaching while empowering them to engage in conservation activities.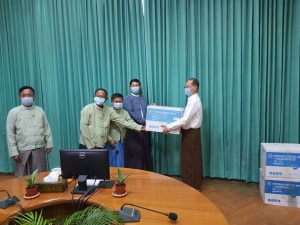 GEI's Energy & Climate Change Program has been working with Myanmar's DRI for nearly a year and a half on implementing GEI's renewable energy planning toolkit and renewable energy pilot projects in Myanmar. In the past, GEI and DRI have held technical exchanges and capacity building workshops and are currently in the midst of the planning for a solar PV pilot project in the Mandalay region. GEI has been involved with Myanmar's Forest Department since 2014, having worked together on projects related to illegal logging and timber trade issues, community conservation areas, mangrove conservation, and wildlife trade issues.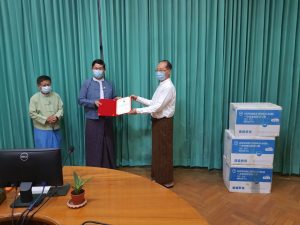 Our collaboration with the Department of Fisheries is our newest government-level partnership in Myanmar, having begun in November 2019. This collaboration focuses on exchanges and capacity building related to sustainable fisheries management policies, as well as sea turtle conservation technologies.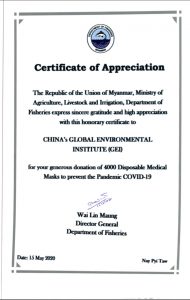 Despite the current global health crisis, GEI has still managed to do a great deal of work with our newest partners in Indonesia, where we sent a total of 6,000 medical masks (2,000 to the Institute for Essential Services Reform (IESR); 2,000 to the Ministry of Mines and Energy; and 2,000 to Indonesia's Energy Committee). Since 2018, we have been working with IESI to coordinate with the Indonesian government. The think tank has also helped GEI to work together to build capacity for local-level Indonesian governments on energy planning.
This is a difficult time for everyone, but we are very glad that we are still able to stay connected with the local partners that make all of GEI's work possible.