ASEAN-China Cooperation on Energy Transition and Climate-resilient Development Discussed in Bangkok, Thailand
On August 28th 2019, the ASEAN-China Regional Cooperation Conference on Energy Transition and Climate-resilient Development was opened in Bangkok, Thailand, jointly hosted by the Ministry of Natural Resources and Environment of Thailand, the ASEAN-China Centre, and the Global Climate Action Initiative (GCAI) Secretariat and co-organized by Thailand Greenhouse Gas Management Organization (TGO) and Global Environmental Institute (GEI). Officials from government ministries in ASEAN countries, technical and policy experts from government designated research institutions, representatives from financial institutions and impact investors, and leading philanthropists are gathering at the two-days conference from August 28th to 29th.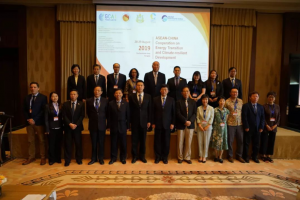 Governmental representatives from China, Thailand, Singapore, Myanmar, the Philippines, Indonesia and Cambodia, representatives of the conference organizers, representatives of the Chinese Embassy in Thailand and some of the guests took a group photo at the conference.
This conference has three major goals:
1)   Bringing officials from ASEAN and international experts together, to discuss opportunities and challenges to achieving Paris Agreement NDCs through energy transition;
2)   Sharing practices and experience of policy instruments, technical methodologies and financing options to assist ASEAN to achieve energy transition and implementing NDCs;
3)   Establishing a public-private partnership platform and explore potential future collaborative opportunities in ASEAN countries on energy transition, renewable energy development, green finance-related capacity building, and pilot project implementation.
As Mr. Varawut Silpa-archa, Thai Minister of Natural Resources and Environment, stated in his opening remarks, "As a result of economic growth in this region, ASEAN countries and China have been challenged by rapidly increasing energy demands and the vulnerability of insufficient energy supply, as well as in their efforts to decrease greenhouse gas emissions to achieve global climate targets."
This is the reason that the conference is so important; Mr. Silpa-archa emphasized in his remarks that ASEAN is in great need of a practical renewable energy development plan, as well as the investment to realize a full energy transition.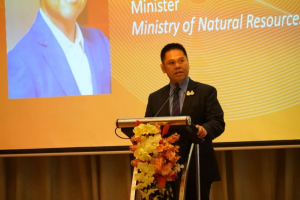 Minister Varawut Silpa-archa at the conference
Other opening speakers emphasized the importance of cooperation in addressing climate change. China's Special Representative on Climate Change and the Chair of GCAI, Mr. Xie Zhenhua, said, "No country can avoid climate change on its own; multilateralism, cooperation, and win-win strategies are our only options."
According to Mr. Xie, these are the only ways forward "in order to achieve harmonious coexistence between man and nature, spur economic development, eliminate poverty, maintain energy security, protect the health of individuals along with the environment, and cope with climate change."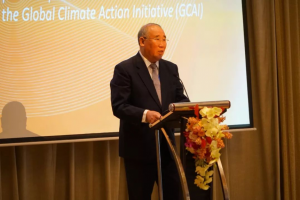 Mr. Xie Zhenhua at the conference
Michael Bloomberg, in a letter to the conference attendees, echoed Xie's statement, urging that as cities, countries, businesses, and citizens of the world, we all need to work together to combat climate change. He also mentioned that his foundation launched a new initiative called "Beyond Carbon" to help the world moving away from fossil fuels and to a 100% clean energy economy. "It's the most ambitious response to the climate crisis in the history of the United States – and builds on our existing efforts to move beyond coal, and help the U.S. uphold its commitment to the Paris Agreement".
In his introduction, Mr. Li Haiyan, the Secretary-General of GCAI Secretariat lauded the efforts of Mr. Xie and Mr. Bloomberg, stating "While considering the increasingly closer economic cooperation between China and ASEAN countries, in particular the deepening cooperation under the framework of the Belt and Road Initiative (BRI), only by simultaneously accelerating bilateral and multilateral cooperation on environmental protection and climate change, can we make our cooperation more sustainable and meet Chinese President Xi Jinping's request for the building of a "Green BRI."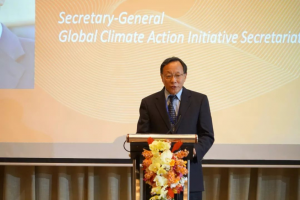 Mr. Li Haiyan at the conference
Mr. Chen Dehai, the Secretary-General of ASEAN-China Centre said that China and ASEAN share the same fate and need to carry out more communication and cooperation between governments. especially on the issue of ecological protection, and jointly achieve the 2030 agenda for sustainable development by United Nations.
Mr. Chen Dehai at the conference
After a morning filled with keynote speeches and presentations on topics ranging from "China's South-South Cooperation on Climate Change" to "Green Finance to Support Climate-resilience Investment," attendees moved into an afternoon of panel discussions.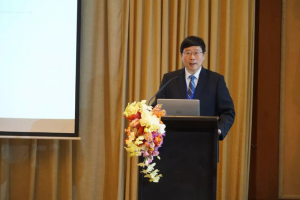 Prof. Wang Yi, the Vice President of Institutes of Science and Development, Chinese Academy of Science (CASISD) gave a presentation on "Introduction to China's low carbon development and potential cooperation with ASEAN countries"
The panels covered two main topics. The first panel engaged the issue of "Strategy, Actions, Challenges, and Needs Related to Renewable Energy Development and Achieving NDCs in ASEAN Countries," while the second addressed "Vision, Strategy, and Plans for Supporting Climate Actions and Renewable Energy Development in ASEAN Countries."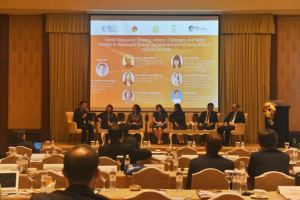 During the first panel, government representatives from six ASEAN countries shared strategies, implementation measures and challenges for renewable energy and NDC targets. The ASEAN countries are now experiencing rapid economic growth, and carbon emissions are expected to double in the next few years. Government representatives from six countries shared measures taken by their respective countries. For instance, Singapore, with limited natural resources, is now focused on solar energy development. Today, the government works with private companies to install solar panels on government public housing. The representative of Indonesia shared the example of the government's provision of clean stoves in remote areas that rely on traditional energy sources.
In addition, representatives from six countries mentioned that a major challenge for renewable energy and low-carbon development is its higher cost than traditional energy. The delegates stated, therefore, that the realization of renewable energy development and NDC goals cannot be separated from the support of government policies, regulations and incentive mechanisms.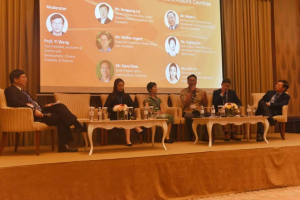 The second panel invited representatives from five foundations: Children Investment Fund Foundation (CIFF), Oak Foundation, Ford Foundation (Indonesia), Natural Resources Defense Council (NRDC) Beijing Representative Office and SEE Foundation. They shared implementation projects and development visions in addressing climate change and renewable energy development, especially focusing on current and future works in China and Southeast Asia countries.
During the closing remark on the first day, Dr. Zhang Jiqiang, the Steering Board Chair of GEI, stressed that in achieving ASEAN's goals on climate change, renewable energy development and sustainable development, the most important thing is for ASEAN countries to have their own energy development objectives, development plan, and renewable energy financing strategy. We are willing to work with partners to provide the supports that ASEAN countries need in these areas.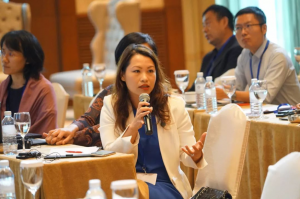 ASEAN countries are faced with the need to reduce GHG emissions and achieve climate targets, while at the same time must expand energy supply to meet the needs of their rapidly developing economies. The region is projected to experience high growth in energy demand due to population and economic growth; nearly a 100% increase in total primary energy consumption from 2015 to 2030. ASEAN nations are working to reduce energy intensity in the region by 20% of 2005 levels by 2020, and to increase the total percentage of energy from renewables to 23% by 2025. At present, however, renewable energy constitutes less than 15% of the region's energy mix.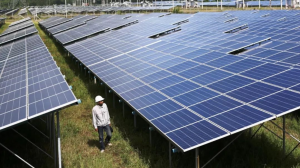 A solar power plant located in Phetchaburi Province, Thailand (Photo from Reuters)
ASEAN maintains a long-term strategic cooperation with China and is also an important partner in implementing BRI. At present, China is ASEAN's largest trading partner and the third largest source of foreign direct investment. The cooperation between the two sides on energy and climate change issues will further promote the energy transition and low carbon and climate resilience development in ASEAN countries, and will also promote the development of climate and environment-friendly investment by Chinese financial institutions and enterprises in the region, achieving "Green BRI" development.