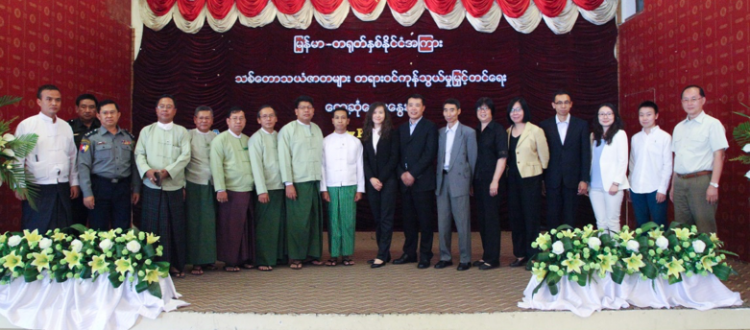 Sino-Burmese Cooperation on Timber Trade Moves Ahead
RUILI (Sept. 1, 2015) – The topic of Sino-Burmese Timber Trade took primary focus at the "China-Myanmar Forestry Trade and Investment Cooperation Workshop" organized by Global Environmental Institute (GEI) and co-organized by Research Center for Economics and Trade in Forest Products of the State Forestry Administration (CINFT-SFA) in the Chinese city of Ruili, on the Burmese border.
The meeting is underway – GEI 2015
During the workshop, the delegation from the China and Myanmar forestry industry discussed the activities and policy of sustainable development for Sino-Burmese timber trade and actively promoted forestry cooperation between China and Myanmar. Notably, this workshop is the fifth informal conference hosted by GEI for Sino-Burmese forestry departments since March 2014 and furthermore, is the first conference with the participation of the Sino-Burmese customs departments. The trip included a workshop, site visit, symposium and a field study.
The high-level delegates discussed the current situation and prospects of Sino-Burmese timber trade and forestry cooperation, successfully agreeing on future areas of cooperation and working process.
Members of the delegation heavily discussed Burmese and Chinese interests in timber trade – GEI 2015
Participants in the delegation are as follows:
CHINA: Chinese Government, Research Institutions and Industry Associations such as State Forestry Administration, Provincial Forestry Administration, Customs Department, Research Center for Economics and Trade in Forest Products, China National Forest Products Industry Association, and Beijing Forestry University.
MYANMAR: Lead by Mr. U Kyaw Kyaw Lwin, the Deputy Director of Forestry Agency of Myanmar Environment and Forestry Administration; with local Forestry Administration, Ministry of Commerce, Customs Department and Myanmar Timber Enterprise.
GEI's Involvement in Developing China-Myanmar Sustainable Timber Trade
This workshop is just one of many initiatives hosted by GEI between the China State Forestry Administration and the Myanmar Environment and Forestry Administration to improve Sino-Burmese forestry management and promote sustainable development. In fact, GEI is also working with these groups to develop a series of activities, including a communication and study tour, to discuss the potential cooperation fields on timber trade and forestry sustainable investment.
The workshop specifically builds upon the recent successful negotiations between the China State Forestry Administration and Myanmar Environment and Forestry Administration: in fact, on April 1, 2014, Myanmar began implementing "a ban on log exports."
Logged timber in Myanmar – GEI 2015
This ban encourages Chinese enterprises to develop responsible wood processing investment in Myanmar and also provides a better opportunity for improving the sustainable development of timber trade. As such the workshop continued the exchange of information between the China and Myanmar delegates and deepened the conversation about the future of the timber trade.
Site Visit to Kachin State
In addition to the workshop, GEI coordinated Chinese forestry delegation visit to northern Myanmar. Under the coordination of GEI, a Chinese delegation led by SINO-RCETFOR under the State Forest Administration of China (SFA) paid a visit to Myitkyina, the capital of Myanmar's Kachin State, from May 31 to June 5 upon the invitation of the Ministry of Environmental Conservation and Forestry of Myanmar (MOECAF).
During the visit, the delegation discussed signing bilateral agreements on timber legality between China and Myanmar with officials from MOECAF, Kachin Regional Ministry of Mining and Forestry, local forestry authorities, Myanmar Timber Enterprise, Kachin Police Office, Customs Office, and Immigration Office. They also had talks on the feasibility of establishing a timber industrial park in Myanmar, and conducted field investigations.
The nine delegates are from the Survey Planning and Design Institute under SFA, Suifenhe Friendship Wood Group Co., Ltd, China National Forest Product Industry Association, Beijing Forestry University, GEI, and InFIT.
Symposium
The symposium on promoting legitimate timber trade between China and Myanmar was held in Myitkyina on June 2, during which delegates from the two countries discussed the opportunities and approaches to facilitate legitimate timber trade and the development of the wood processing industry.
Mr. U Aung Naing, Kachin Regional Minister of Mining and Forestry, and Ms Liu Xiaoli, a delegate from SINO-RCETFOR, gave opening remarks at the symposium. Minister U Aung Naing stated his wish that China could help Myanmar in combating illegal timber trade in border areas and promoting local forest resource conservation and sustainable development.
The head of the Chinese delegation explained that China and Myanmar have always worked closely on forestry, and with complementing resources, the two countries will see a promosing future in this respect. He hoped that through further exchanges, China and Myanmar could step up to sign bilateral MOUs and promote industrial cooperation in forestry under this framework.
U Thein Myint, director of Kachin Forestry Department, introduced the forest coverage in Kachin, eight timber smuggling routes connecting China and Myanmar, recent confiscation of illegal timber, and the confiscated amount. U Myo Min, director of Planning and Statistics Department of MOECAF,  demonstrated ways of investing in Myanmar's forestry industry, and legal procedures and documents for timber export.
Delegates from Myanmar were very interested in the model of Suifenhe Timber Industrial Park in the Sino-Russian border area introduced by Shen Beiling, Vice General Manager of Suifenhe Friendship Wood Group Co., Ltd.
Later in the symposium, they focused on this topic and discussed the local government's role in the operation of the industrial park, tax allocation, economic knock-on effects to Russia, the choice of site, and the feasibility of establishing a similar industrial park in the Sino-Myanmar border area.
More than twenty Burmese delegates attended the symposium, including representaives from the central government, Kachin's Forestry Department, Customs Office, Immigration Office, Police Office, and Myanmar Timber Enterprise.
Field Study at Wood Processing Park
During the field investigation, the delegation visited the collection site of confiscated timber, Kambaiti-Houqiao border port, Myitsone dam invested by China Power Investment Corporation, and a wood processing park in suburban Yangon.
While visiting Yangon's wood processing park, the delegates learned about Myanmar's forestry sector. The country's relatively backward wood processing technology and equipment, along with its lack of processing capacity, means a lot of timber is not being processed on time. Sometimes, timber can be piled for months or even a year, which leads to plunging utilization rates and causes huge waste.
Chinese delegates recognize that Myanmar is still at the initial stages of political and economic reform, and its investment policy and procedures are not yet standardized. In this regard, they think it will be a great challenge for Myanmar to attract Chinese investment in forestry.
GEI will continue to promote communication and exchanges between China and Myanmar's forestry departments in lumbering and trade management, wood processing industry, afforestation, etc. GEI will also facilitate the signing of MOUs in forestry cooperation between the two countries, work on the compilation of guidelines on Myanmar's forestry industry, and guide Chinese enterprises in terms of responsible forestry trade and investment in Myanmar.
Relevant activities
In March 2014,  under the coordination of GEI, the head of MOECAF and the Department of Development Planning and Asset Management of SFA met during the International Symposium on Promoting Legitimate and Sustainable Forestry Product Trade and Investment in Shanghai. Both have shown great interest in strengthening cooperation.
In January 2015, MOECAF, GEI, SINO-RCETFOR and other relevant authorities jointly held a symposium on forest governance and timber legality verification, during which Sino-Myanmar forestry governance project was launched.
In May 2015, officials from the Department of Development Planning and Asset Management and Department of International Cooperation of SFA and MOECAF met in Beijing. They highlighted again the importance of cooperation in fighting against illegal lumbering and trade, and promoting legal timber trade and investment. They also discussed the plan for next step of work.
Media Coverage
Myanmar-China Forestry Resources Trade (Eleven Myanmar, June 3, 2015)