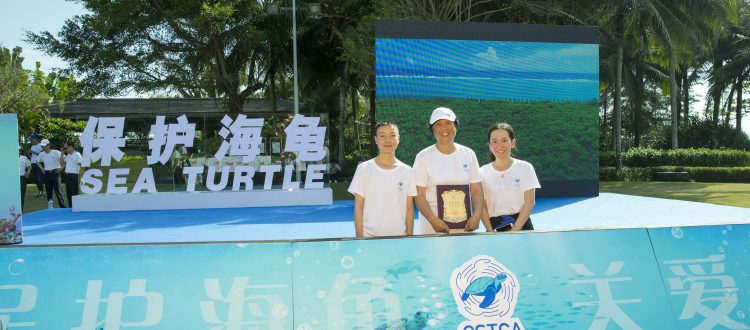 New Alliance and Ambassador for Protecting China's Sea Turtles Announced
GEI to co-Lead China Sea Turtle Protection Alliance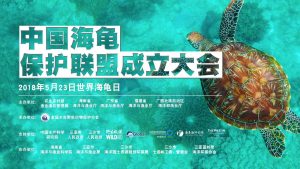 SANYA (May 24, 2018) – China's Fisheries Resource Management Bureau under the Ministry of Agriculture and Rural Affairs along with several other provincial-level environmental agencies demonstrated their increased support for the protection of sea turtles by inaugurating a 98-member China Sea Turtle Conservation Alliance (CSTCA) in Sanya, China on May 23, 2018, World Sea Turtle Day. Chinese actor LIU Ye was also awarded China celebrity ambassador for Aquatic Wildlife Protection by the National Aquatic Wildlife Conservation Association at the event. Over 250 representatives from the government, media, research institutions, NGOs and academia joined for the event, which also included the release of 5 captured turtles into the ocean with geo-trackers and the destruction of over 40 tons of confiscated illegal marine wildlife products.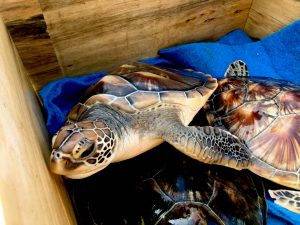 A rescued turtle is prepared to be released into the ocean. – GEI 2018
ZHANG Xianliang, director of the Bureau of Fisheries and Fisheries Law Enforcement (BOFFLE) under Ministry of Agricutlure and Rural Affairs, CUI Lifeng, President of the Chinese Academy of Fishery Sciences, and LI Yanliang, delivered keynote speeches supporting the Sea Turtle Alliance's efforts to take the protection of Chinese sea turtles a step further.
The Alliance will conduct sophisticated research on sea turtle nesting and migration, as well as illegal sea turtle supply chains, and aims to work with the government to ensure better sea turtle conservation and increase the level of protection of sea turtles from a Level 2 to Level 1 protected species.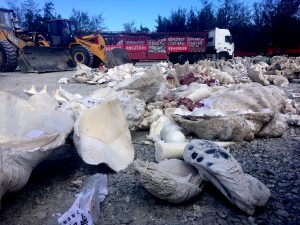 Bulldozers prepare to destroy confiscated marine products. – GEI 2018
The research and alliance will be co-led by Global Environmental Institute (GEI), a Chinese non-profit, non-governmental organization based in Beijing. GEI's legacy and track-record supporting the Chinese government to improve regulations related to illegal trades and sustainable development make it a natural leader for this project, which involves expertise in conservation as well as in trade. GEI's Executive Director, JIN Jiaman attended the event alongside GEI Executive Secretary JI Lin and GEI's Marine Conservation Program Manager, WANG Jing.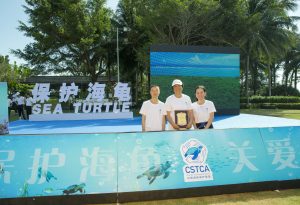 The GEI team at the ceremony from L-R, JI Lin, JIN JIaman, WANG Jing – GEI 2018
Of the seven species of sea turtles in the world, five are found in China's seas. Sea turtles face critical environmental and human threats to the extent that the Convention on International Trade in Endangered Species (CITES) classifies them as Appendix 1 – the highest level of endangerment. In China, the main threats come from habitat destruction, illegal fishing, marine pollution and a strong illegal trade circuit at the border of China and Vietnam, as well as nearby Malaysia – Philippines – Indonesia Coral Triangle. China has taken steps to crack down on illegal trades on sea turtle products, including the "Hainan Provincial Ecological Protection and Construction Action Plan 2017-2020," and establishing several preserved nesting sites in Hainan and Guangdong Provinces as well as Lantau.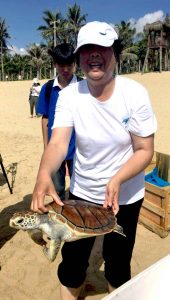 JIN Jiaman helps a turtle reach the shore – GEI 2018
However, there is also a need to raise the public awareness of sea turtle conservation. Therefore, in addition to Mr. Liu's work as Ambassador, the Alliance is also dedicated to hosting public education workshops and events, as well as working with tourism agencies, to ultimately reduce the demand that contributes to illegal trade. The Alliance's work has already begun as they are tracking the migration and nesting patterns of the five turtles released on May 23 and are planning a public awareness event on June 8, World Environment Day.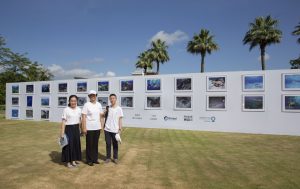 The GEI team poses with the wall of photos and Alliance Logos in Sanya from L-R, WANG Jing, JIN JIaman, JI Lin – GEI 2018
GOVERNMENT HOSTS
China's Ministry of Rural Agriculture and Fisheries, Hainan Provincial Fisheries Administration, Hainan Provincial Department of Oceans and Fisheries, Guangdong Provincial Marine and Fisheries Department, Fujian Provincial Marine and Fisheries Department, Guangxi Zhuang Autonomous Region Marine and Fisheries Agency and the National Aquatic Wildlife Protection Committee
ATTENDEES
Ministry of Agriculture and Rural Fisheries and Fisheries Administration, National Wildlife Conservation Branch, China Academy of Fishery Sciences, Endangered Species Import and Export Management Office of the People's Republic of China, State Customs Administration Anti-Smuggling Bureau, China Marine Police Bureau, State Market Supervision Administration, Director of Hainan Provincial Marine and Fisheries Department, Guangdong Provincial Marine and Fisheries Department, Fujian Provincial Marine and Fisheries Department, Guangxi Zhuang Autonomous Region Marine and Fisheries Department, Sanya Municipal People's Government, and Sansha City People's Government, Chinese actor Liu Yan and his wife Anna, as well as representatives from provincial-level fishery administration and conservation departments, scientific research institutes, members of China Sea Turtle Protection Alliance and media representatives.
MEDIA RELEASES
Global Environmental Institute 全球环境研究所
Global Environmental Institute (全球环境研究所; GEI) conducts research, develops tools, and provides support for the sustainable development of China and nearby countries. Since 2004, GEI has operated as a premier Chinese non-governmental, non-profit, environmental NGO dedicated to manifesting a China that achieves economic development through world-class environmental and social policies. We conduct our work via the GEI method: we implement market-based models by executing the three key steps of research, pilot projects, and policy recommendations. Our team has expertise in the most pivotal fields of development, including renewable energy, climate change, community development, ecological conservation, and sustainable overseas investment.
The GEI method is currently present in projects operating across 24 of China's provinces and 10 of China's closest international partners including Democratic Republic of Congo, Myanmar, Sri Lanka and the United States. In these areas, we have effectively lowered carbon emissions; protected thousands of hectares of land; worked with officials and experts; improved international environmental negotiations; and brightened the livelihoods of villagers for the long-term.
As China continues to domestically progress and expand its international reach, GEI remains committed to the belief that environmental solutions must also address social and economic concerns. We hope you will join us in solving the crucial issues of today and realizing the great future that lies ahead for GEI, China, and the rest of the globe.
GEI was registered in Beijing's Chaoyang District in 2004 and received a 4A Civil Society Evaluation Rating from the Civil Affair Bureau of Chaoyang District in 2013. www.geichina.org