From UNFCCC COP25 to CBD COP15: Nature-Based Solutions
Last Thursday (December 12), GEI hosted two side events at the 25th Conference of the Parties of the United Nations Framework Convention on Climate Change (UNFCCC COP25) in Madrid. In our first event, government officials, experts, and scholars participated to discuss the topic of nature-based solutions (NBS) to climate change and their implementation, challenges and opportunities for China-ASEAN climate cooperation in this area.

The official side event, entitled "Nature-Based Solutions (NBS)— Mangrove Conservation and Zero-Deforestation Agricultural Production as Cases," took place during the first session in the afternoon. During the event, officials and experts from China and Brazil discussed mangrove protection and the sustainable trade of agricultural products. Under the framework of NBS, an important topic of discussion was how to better contribute to ecosystem protection and climate change mitigation and adaptation.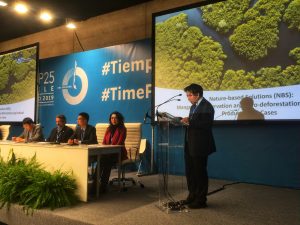 In his speech during the event, Ma Aimin, director of the National Center for Climate Change Strategy and International Cooperation, introduced the importance of NBS responses to climate change and China's work to promote its NBS experience. He also gave a summary of several cases to demonstrate the type of good NBS practices that should be reproduced in the future. Ma proposed that cooperation should be further strengthened in the areas of ecosystem protection and restoration, reducing the deforestation impact of financing projects, increasing green investment and financing opportunities, and continuing to develop sustainable agriculture and biodiversity protection.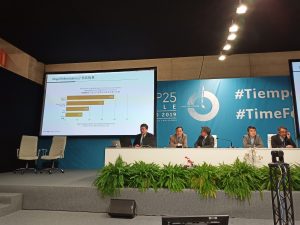 Wang Yi, the Vice President of the Institute of Science and Development of the Chinese Academy of Sciences gave a keynote address on how the experience of the Paris Agreement on Climate Change can serve as a source of inspiration for biodiversity protection, the construction of a global green value chain, and China's contributions in these areas. Wang Yi proposed that the COP15 of the Convention on Biological Diversity can take away lessons from the experience of international negotiations on climate change, while promoting the formulation and implementation of quantitative protected land area targets and national independent contribution protection targets. It can also adopt measurable, reportable, verifiable (MRV) monitoring and evaluation methods and conservation financing methods to improve global biodiversity conservation actions and effectiveness after the year 2020.
China is one of the world's largest consumers of primary natural products. In response to the problems of primary forest logging and greenhouse gas emissions caused by the production of agricultural and forestry products, Wang Yi proposed that priority can be given to conducting global green value chain pilots through policy requirements and corporate actions. He mentioned that these pilots should include products such as soybeans, palm oil, and forest products. Through looking at best practices in constructing green value chains, Wang Yi stated that we should aim to create a "global green value chain South-South cooperation platform" or utilize the Belt and Road Initiative and the International Alliance for Green Development to build capacity for producing countries, while providing training for Chinese enterprises and support for green commodities cultivated through low carbon production.
In the third part of the session, the Chinese Ministry of Natural Resources' Third Institute of Oceanography researcher Chen Guangcheng, the Chinese National Forestry and Grassland Administration's Center for International Forest Products Trade Secretary-General Su Haiyin, the Brazilian Coalition on Climate, Forests and Agriculture's co-facilitator André Guimaraes, Secretary-General of the Amazon Environment Institute, and GEI's Program Manager of  the Overseas Investment, Trade and Environment program, Ren Peng each spoke on the topic of sustainable trade of timber and agricultural products. They discussed China's mangrove protection and restoration practices, China-Southeast Asia mangrove protection cooperation, corporate feedback on the relevant provisions of the timber legality system, the progress in China's pilot of a timber legality system. Other important topics that were examined during the session were the importance of the Amazon's ecological protection and sustainable production in agriculture (especially in major traded products, such as soybeans), as well as the practices of COFCO in promoting responsible soybean procurement.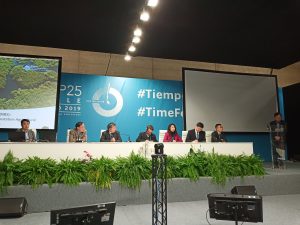 In the event's closing remarks, Dr. Zhang Jiqiang, Chairman of the GEI Council, emphasized that China has had many years of policy and practical experience in the protection of ecosystems, especially the prohibition of logging in natural forests, returning farmland to forests, returning pastures to grasslands, mangrove restoration, and ecological compensation. These experiences can be used as examples of natural-based solutions, introduced and promoted to more developing countries through international and South-South cooperation, and make China's contributions to the 2020 Convention on Biological Diversity COP15 and Climate Change NBS all the more significant.