Young China Watchers Online Seminar on China's Wildlife Reforms
On June 13, Jingwei Zhang, a program officer with GEI's Overseas Investment, Trade and Environment program, participated in a panel hosted by Young China Watchers on China's wildlife trade and farming reforms over the last several months. She was joined by Aron White, of the Environmental Investigation Agency, and Dr. Jinfeng Zhou, of the China Biodiversity Conservation and Green Development Foundation, on the panel hosted by Ankur Shah, the Director of Young China Watchers, London. 
The panel took place just days after China banned the use of pangolin scales in Traditional Chinese Medicine (TCM). Environmentalists worldwide applauded the decision, though the panelists noted that in practice, the good news of this ban might be more complicated. The discussion, hosted on Zoom, covered a variety of topics related to wildlife protection, ranging from the current revision of China's Wildlife Protection Law to examples of illegal wildlife trade witnessed by panelists through their work.
In the first part of the discussion, Aron White went over the changes that have occurred in the past months with China's Wildlife Protection Law, as well as the loopholes that have remained even once the Standing Committee of the National People's Congress (NPCSC) put a stay on commercial wildlife trade in late February of this year. White cited leopard bones, pangolin stockpiles, and aquatic animals as examples of the species that remained lacking in full protections, even with the temporary ban on wildlife trade in place. He concluded by remarking that China should formally revise its Wildlife Protection Law this year and consolidate the current precautionary approach to wildlife trade and consumption in order to mitigate the potential risks to human health.
Dr. Jinfeng Zhou, the second panel speaker, opened by discussing the urgency of protecting pangolins and removing them from China's pharmacopeia, or else, he said, pangolins would likely become extinct within 5 to 10 years. He mentioned illegal bird markets and electric fishing as other persistent threats to wildlife protection and cited e-commerce platforms as a major part of the issue in facilitating sales of threatened wildlife species. The two main issues Dr. Zhou mentioned in relation to e-commerce are a lack of supervision and crackdowns by seller platforms and the quantity of illegal wildlife online vendors. While platforms have the capacity to track and close accounts that sell threatened or protected species, they do not do so in an adequate manner. Furthermore, Dr. Zhou added that as soon as they suspend the account of a vendor selling threatened wildlife species, more quickly emerge to fill its place.
Jingwei Zhang presented third, giving an introduction of GEI and our work in preventing both illegal forestry and illegal timber trade before launching into a discussion of illegal wildlife trade issues. Zhang said that the reason that GEI had started working on wildlife trade issues is because it is such a significant international problem, and China is a key receiving country for illegally trafficked wildlife products. After discussing several existing approaches taken in China, such as demand reduction, improved enforcement of existing policies, and an emphasis on international cooperation, Zhang talked about the spillover effect that illegal wildlife trade has across borders in southern China and Southeast Asia. She mentioned how trafficked goods sold in Myanmar can often be brought into China, as she has witnessed in the case of ivory, pangolin scales, and tiger skulls passing from Burmese border cities into Yunnan and Guangdong.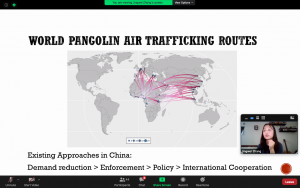 Finally, Zhang highlighted the importance of cooperation between China and other countries throughout the wildlife trade supply chain, for improved awareness of the issue, law enforcement by customs officials, and bilateral agreements, among other strategies. She said that although we do not immediately see the direct impact of these efforts, they nonetheless constitute critical opportunities for action that in the long term create conditions for positive change.