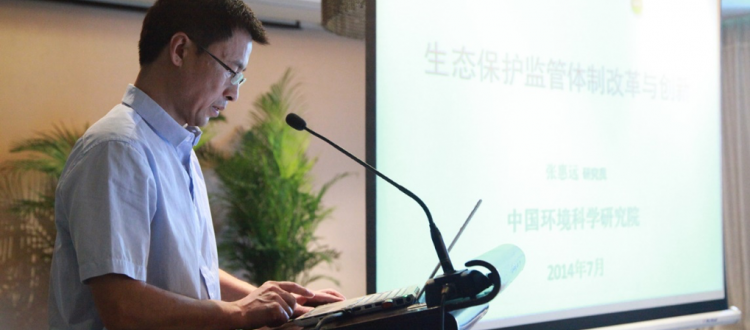 Parties Gather to Plan Ecological Protection in China
BEIJING (July 9, 2014) – From July 8-9, GEI, along with the Shan Shui Conservation Center and the Wildlife Conservation Society (WCS), jointly organized the one-and-a-half-day 'Ecological Security System Seminar' in Beijing.
The seminar was attended by over 70 participants who engaged in enthusiastic discussions about various hot topics including the current situation and challenges of ecological protection systems, ecological security legislation, community participation in ecological protection, ecological services-based economy, and China's ecological "red line".
Participants included central and local government officials from the Ministry of Environmental Protection, Ministry of Agriculture, State Forestry Administration and Sichuan Province's Baoxing County; expert scholars from academic institutions including the Chinese Academy of Sciences (CAS), Peking and Tsinghua Universities; delegates from regional protection areas/national parks in Sichuan, Qinghai and Tibet; representatives of Chinese and overseas NGOs; along with GEI Steering Committee member Dr. Zhang Jiqiang and GEI's Madame Jin Jiaman.
GEI's Mme JIN addresses the Seminar – GEI 2014
During the closing remarks of the 'Ecological Security System Seminar' on July 9, the Global Environmental Institute (GEI)'s Executive Director Madame Jin Jiaman spoke of her satisfaction at the outcomes of the conference.
"I genuinely believe this seminar achieved its purpose, which was to discuss ecology, the environment and protection among parties from the top leaders to community residents. We have covered top-level system design and planning, to community-level issues such as land rights and benefits. I would like to thank all the participants for putting forward their views and reflections on China's ecological security system at all levels, which contributed greatly to the seminar. We have put forth a platform from which we can build and make further progress in this area."
Background: Systematical Reflection on Ecological Security
In recent years, China's economy has enjoyed rapid growth on an unprecedented scale, however, this economic growth has also come at a cost for the environment and natural resources, such as environmental pollution and ecological degradation.
GEI's Dr. Zhang Jiqiang gives background on China's ecological crisis – GEI 2014
During his address to the seminar, Dr. Zhang Jiqiang raised the point that China's ecological crisis has already entered all aspects of our daily lives and that such severe circumstances must not be ignored.
During its 18th National Congress in November 2012, the Communist Party of China issued a strategic policy decision titled 'Making Great Efforts to Promote Eco-Civilization Construction', requiring the establishment of ecological civilization be given a prominent place in China's future development. Despite this positive step, from policy perspective, there remains a great deal of problems with the current ecological protection system including: power decentralization, a lack of oversight and supervision, the scattered distribution of protected areas, ecological red line deficiencies, inefficient use of protection funds, the inadequate use of market methods, and a lack of community participation.
This situation makes it very difficult to address and resolve the problems of ecological protection in a holistic manner in China.
During the Third Plenum of China's 18th Communist Party Congress, General Secretary Xi Jinping proposed the principle to use systematic methods to protect the ecology, while also suggesting ecological protection will be raised to an issue of national security. This signified that the opportunity to resolve China's ecological crisis had come, and that China will strategically and systematically consider how to innovate and improve its system for ecological protection.
About the Seminar
The seminar was designed to seize this opportunity, and through over 6 months of planning, strove to provide policy makers and implementers along with community members a platform to speak freely and put forward plans and ideas for ecological protection in China.
The seminar comprised of five parts covering distinct topics, allowing participants to conduct in-depth discussions on high-level planning. These five topics were:
ecological protection systems;
ecological protection legislation;
ecological function zoning;
ecological red line and national parks;
and putting forward questions and feasible resolution plans.
Key Remarks
Director of the Chinese Research Academy of Environmental Sciences (CRAES) Ecological Civilization Centre, Zhang Huiyuan
Zhang Huiyan described that the fundamentals of a legislative system and framework for ecological protection in China have already taken shape, while a regulatory system governing ecology and the environment has already been fundamentally established. In addition, progress has also been made to advance market mechanisms for ecological compensation, such as green finance, credit, insurance and carbon trading.
GEI's Biodiversity Conservation Program Officer, Wang Aimin
Wang Aimin summarized the holistic framework and operating methods of the CCA mechanism and the three major players involved in its implementation – local government, the local community and protection organizations. Mr. Wang explained that the three parties jointly provide ecological services for society; suggested that central government, private enterprises and conservation organizations should cover the associated costs; and expressed that ecological services are the main economic growth point for the model.
GEI has been working with the Shan Shui Conservation Center, WCS and Institute of Zoology at CAS, in regions including Sichuan, Tibet, Qinghai, Ningxia and Inner Mongolia, to launch research and pilot projects for ecological conservation concession agreements (CCA) since 2005.
CRAES Researcher, Dr. He Ping
Dr. He Ping pointed out that the drawing of ecological red lines reflects the country's determination in ecological protection. The 'Opinions of the State Council on Strengthening Major Environmental Protection Work' issued in 2011, explicitly stipulate the drawing of ecological red lines in important ecologically functional zones, ecologically sensitive and vulnerable areas covering land and oceans. Since the 18th National Congress, all policies in China have emphasized this mission.
Dr. He went on to define ecological red line from ecological, environmental and resource perspectives, and introduced the principles and methods for drawing red lines along with associated control policies. 'Red Lines' are the bottom line of national and regional ecological security, the fundamental ecological safeguard line of sustainable human development, and also the minimum area for species and ecosystem to survive and develop.
At present, through these efforts, China's ecological protection work has made incremental progress, which has seen the achievement of ecological, environmental and social benefits.
Main Problems Moving Forward
Despite initial positive results in the field of ecological protection in China, participants in the seminar held the collective belief that several relatively serious problems still exist with the ecological protection system.
Lack of scientific knowledge and information.
Director of the Shan Shui Conservation Centre and Professor of biological protection at Peking University, Lü Zhi, highlighted China's current shortcomings in this regard in relation to the research of ecological protection, which not only drastically reduces the effectiveness of actions taken, but also has a great influence over the setting up of conservation objectives and the implementation of protection measures.
Legal systems and institutions in place for ecological protection are not robust.
If laws and legislation are not robust, this will lead to deficiencies in the oversight administered by legal systems and institutions, leading to a situation where they are incapable of protecting nature reserves in practice. Professor Lü suggested that the entire ecological environmental protection system in China is lacking a single top-level law, which is needed to bring together environmental law and other specific types of protection legislation.
Jilin University Law School Professor Wu Zhen pointed out that China's current environmental resources protection legislation is principally categorized according to environmental elements and resources type classification, but a very prominent question is that China's constitution and environmental protection laws contain no provision for the special protection of nature reserves.
Deputy Director of the China National Forestry Economics and Development Research Center (FEDRC), Dai Guangcui, also mentioned that national-level ecological compensation legislation has not yet been established, and at the moment is entirely reliant upon departmental regulation, while the concept of ecological compensation is also not clear.
Disharmony between the goals of economic development and ecological protection.
While there have been some achievements to relieve China's ecological crisis to a certain degree, if this is to be completely eradicated then rationale measures to resolve the conflicts between ecological protection and economic development must be adopted.
"At present, looking at the system as a whole, conflict still exists between protection and development goals", professor Lü added, "the importance attached to protection has increased leaps and bounds, but the pace of development has been even more rapid. Often both are win-win, but in reality local governments will normally choose to bypass a conservation district, or sacrifice e a conservation district's space to make way for development."
Support for Joining Environmental Protection and Community Development
GEI's Executive Director, Jin Jiaman, pointed out that GEI is currently involved in several CCA projects, and through this work is diligently attempting to balance protection and development.
Professor Wu expressed approval for this and stated her belief that environmental protection cannot be established at the cost of the economic livelihoods of local residents.
Director Zhang Huiyuan also stressed, "ecological civilization and industrial civilization cannot be separated. We already want to maintain material production, but also maintain natural ecological harmony, and in reality must, on the basis of industrial civilization, go even further to pursue ecological civilization."
In addition, the speakers put forward several additional challenges, including the lack of innovative mechanisms, inadequate management systems, insufficient funding, and disequilibrium in regional development, inadequacy of policy supervision and implementation.
Working for the Benefits of Future Generations
Tsinghua University School of Architecture Professor Yang Rui raised the point that a good system is capable of addressing two points – environmental protection and national interests. It is clear that the current ecological protection system cannot completely satisfy both of these points.
With regards to how to optimize the system, participants unanimously believed that the central and local government, regional conservation district, investors, environmental protection organizations and society must work together to bring about the comparative advantages of all parties and jointly respond to the ecological crisis, resolve the problems that exist with the current ecological protection system with purpose.
In addition, China must align internationally and take lessons from the experiences of Europe and America, thus establishing an ecological protection system with Chinese characteristics.
Qinghai University Professor Qu Bo, while elaborating about the ecological protection circumstances at the Sanjiangyuan National Nature Reserve, proposed the combination of the current "top-down" protection model and innovative "bottom-up" models. Both types of models complement each other in order to ultimately achieve the harmonious development of man, nature and society.
In his final appeal to the conference, Professor Yang Rui stressed that when all is said and done, it depends on the current generation to protect the precious heritage our ancestors set aside for us, and pass this down to future generations intact without destroying it.