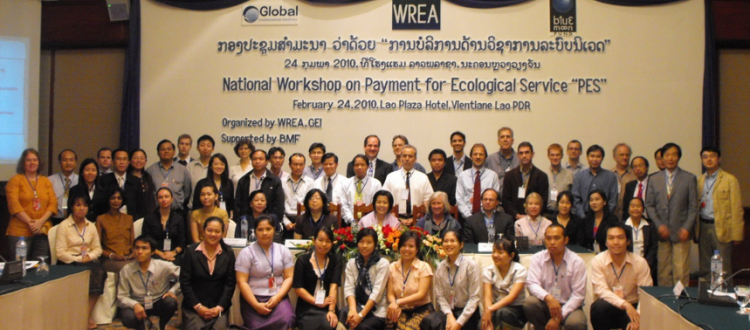 Lao Deputy Prime Minister Welcomes GEI to Introduce Best Practices in Environmental Governance
VIENTIANE (Feb. 24-26, 2010) – H.E. Asang Laoly, Deputy Prime Minister of the Lao People's Democratic Republic welcomed the Global Environmental Institute (GEI) to introduce international best practices in environmental governance to the Lao PDR government on February 25, 2010. Leading up to this special audience, GEI held a joint international workshop with the Water Resource and Environment Administration of the Lao PDR (WREA) on Payments for Ecological Services (PES) February 24 and hosted a two-day workshop on land conservation.
GEI's Mme Jin Jiaman (seventh from left) joins with Lao PDR officials and experts to share insights on conservation – GEI 2010
The pressure on ecological conservation in Lao is rising as economic development occurs at a rapid rate. Through the conference and a series of related activities, GEI hopes to strengthen the Lao government's capacity in related policy-making and implementation and its active participation in the ASEAN dialogues/discussions on the PES mechanism so as to promote the conservation of biodiversity in the Mekong Sub-region.
Speaking to a distinguished audience including, Mme. JIN Jiaman, GEI's Executive Director, Ms. Diane Miller, President and CEO of the blue moon fund (BMF), BMF Vice President of Programs, Mr. ZHANG Jiqiang and their team, H.E. Asang Laoly explained the benefits of working with international partners, especially those from China:
"China and Laos are neighbors connected by common mountains and rivers. Our governments established a 'stable, holistic long-term strategic partnership,' and with more and more Chinese enterprises investing in the Lao PDR, the volume of trade between the two countries has been growing." He said, "We warmly welcome Chinese environmental organizations like GEI to introduce best practices in environmental management policy, particularly successful experience in environmental governance in China, to the Lao PDR to assist the Lao PDR in improving its environmental governance and management capacity."
During the meeting, GEI executive director Mme. JIN Jiaman gave a detailed introduction of GEI's work with the National Land Management Authority (NLMA), the Water Resources and Environment Agency on environmental protection in the Lao PDR.
The Need for Conservation Efforts in Lao PDR
The Mekong Sub-region is becoming one of the most rapidly developing regions in the world but the countries must learn how to both guarantee rapid economic development and ensure that the eco-environment of the river basin can serve the needs of its residents.
Lao PDR faces similar problems to other countries in the Mekong Sub-region, namely, environmental pollution, land degradation and exhaustion of natural resources caused by an expanding resource extraction industry and growing population pressure. If these challenges are not addressed, the country's ecosystems may face irreversible destruction and economic activities dependent on natural resources will be severely affected. For these reasons, the Lao government has recently set aside 70% of its land area for ecological conservation but more work has to be done on ecological planning.
Feb. 24 Workshop on PES
On February 24, GEI held a joint international workshop with the Water Resource and Environment Administration of the Lao PDR (WREA) in Vientiane entitled "International Workshop on Payments for Ecological Services (PES) in Laos." The conference was chaired by WREA Permanent Secretary Ms. Monemany Nhoybouakong. GEI project officer REN Peng introduced GEI's practices in promoting PES and community development activities to attendees and answered questions.
The Workshop taught a large group about methods to improve conservation in Lao PDR – GEI 2010
The conference aimed at increasing understanding within the Lao government of the PES mechanism, its methodology and implementation, and, in particular, exploratory, national level policies on PES in neighboring countries within the Mekong Sub-region (e.g. China and Vietnam) that can serve as important references for the Lao PDR as it works to develop its environmental policy.
"Payment for Ecosystem Services (PES) " is a means of encouraging eco-environmentally friendly behavior through adjusting the allocation of environmental and economic benefits among stakeholders, in order to promote fair and coordinated development between regions and social groups."
The conference introduced international best practices in PES to government officials from China and Vietnam as well as representatives from international organizations, including the International Union for the Conservation of Nature (IUCN), the Wildlife Conservation Society (WCS), the United Nations Development Program (UNDP), the United States Agency for International Development (USAID), the World Bank (WB), the World Wildlife Fund (WWF), Winrock International, the Asian Development Fund (ADB) and the Wildlife Alliance.More than 80 government officials from the Lao Ministry of Energy and Mining, Ministry of Finance, Ministry of Panning Investment and the Ministry of Agriculture and Forestry, among others, attended the conference.
Feb. 25-26 Workshop on Land-Use
A two-day workshop entitled "Technical workshop on 'utilization of land resources and conservation of Ecosystems and Protection of Environment,'" welcomed 100 attendees from the Lao government and other organizations.
The workshop was aimed at encouraging the Lao government to incorporate a system for land and ecosystem valuation in its land-use planning. The main method for this work is introducing international best practices into the Greater Mekong Sub-region to serve as references for enacting land and environment policy in the Lao PDR.
Specific groups included high-level officials from the Lao National Assembly, representatives from the WREA, Ministry of Energy and Mining, Ministry of Finance, Ministry of Panning Investment and the Ministry of Agriculture and Forestry, along with attendees from international organizations working in Laos. The workshop was chaired by NLMA Director H.E. Kham Ouane Boupha.