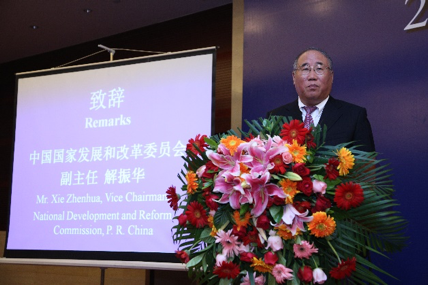 XIE Zhenhua & John Kerry Highlight GEI's US-China Low Carbon Development Partnership
BEIJING (July 10, 2014) – As the first NGO to enter the US-China EcoPartnerships program, Global Environmental Institute (GEI) and our US-based partner, Center for Climate Strategies (CCS), took part in a special workshop for EcoPartnerships in Beijing under the leadership of high-level officials from both the American and Chinese governments.
YU Qingchan (second from right) speaking on the panel – GEI 2014
During the 'Low Carbon Development Demonstration Projects' part of the workshop, GEI climate change program officer Yu Qingchan shared the results and experiences of the GEI and CCS 'Research and Development of the Chinese Provincial Low Carbon Development Planning Toolkit' project.
Recognized by Official Leadership
Current US Secretary of State John Kerry spoke at the 2014 US-China EcoPartnerships signing ceremony in Beijing on July 10, as part of the 6th Round of the US-China Strategic and Economic Dialogue (S&ED). Emphasizing the importance of bilateral subnational climate initiatives between both countries, Secretary Kerry made reference to the EcoPartnership between the Global Environmental Institute (GEI) and US-based Center for Climate Strategies (CCS) to illustrate the success of such initiatives so far.
Current Deputy Director of the China National Development and Reform Commission (NDRC), Xie Zhenhua, highly praised the cooperation between GEI and the CCS for advancing low carbon development in both countries through their cooperative low carbon policy and practical work.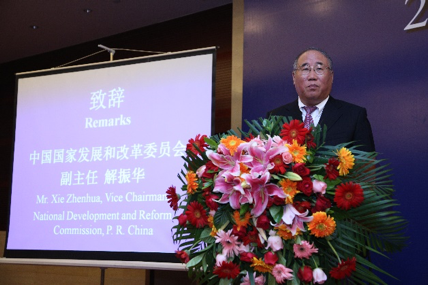 Director XIE Zhenhua Addresses the Crowd – GEI 2014
During his address, Director Xie spoke how the US-China EcoPartnership has already become a trademark of climate change cooperation between both countries, while such demonstration projects, innovative mechanisms and cooperative experiences are of great importance to cooperation between the US and China at the state/provincial level.
Director Xie highlighted three characteristics of the US-China EcoPartnerships program.
Firstly, he noted that the diversified nature of cooperation models cover many levels, including policy research, demonstration projects and establishing platforms for future work.
Secondly, participating parties are exploring resolution plans for low-carbon development through a combination of top-down and bottom-up approaches, and their initiative and enthusiasm is profound.
Thirdly, the program possesses a strong demonstration effect and meaning.
As one of the events as part of the 6th round of the US-China S&ED, the 2014 US-China EcoPartnerships Workshop was intended to benefit all those participating in EcoPartnerships by providing an opportunity to share practical experiences and seek new opportunities for cooperation.
About the US-China EcoPartnerships Program and GEI & CCS Project
The entire US-China EcoPartnerships Delegation – GEI 2014
The US-China EcoPartnerships Program is one platform for establishing strong cooperation as part of the US-China Framework for the Ten Year Cooperation on Energy and Environment. The program encourages all types of organizations from the US and China, including those from government, private enterprises, academic and research institutions, along with other NGOs and associations, to voluntarily form collaborative relationships, to explore new cooperation models for the benefit of energy security and sustainable economic and environmental development in both the US and China.
When GEI and CCS were accepted into the EcoPartnerships Program in May 2011, they were the only successful pairing of NGOs to do so. Through their participation, GEI and CCS have fully integrated with Chinese and American government departments, scientific research institutes and subsequently other NGOs, to realize the complementary advantages of these organizations and strengthen China's technical expertise and capabilities in the quantitative analysis of carbon policies.
As part of their cooperation, GEI and CCS launched the 'Research and Demonstration of the Chinese Provincial Low Carbon Development Planning Toolkit' project, to develop a 'Low Carbon Policy Quantitative Analysis Toolkit' suitable for use at the provincial and municipal level in China. This has already been used to analyze the low carbon policies in Chongqing's 12th Five-Year Plan, while GEI and CCS exhibited the Toolkit and its successful applications at the UNFCCC COP19 climate change talks. The Toolkit is currently being used in training given to Chinese government officials.
As part of the signing ceremony, six new US-China partners were inducted, and each introduced their respective implementation plans during the workshop. The new partner organizations are as follows: Port of Los Angeles and the Shanghai Municipal Transport Authority; City Partnership of Greater Philadelphia and Tianjin Economic-Technological Development Area; Environmental Defense Fund and Shenzhen Low-Carbon Development Fund; Lawrence Berkeley National Laboratory and Shandong Province; General Electric Company and Harbin Electric; and Sapphire Energy and Sinopec.