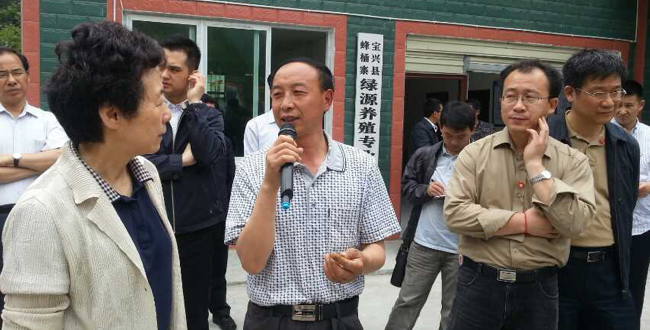 GEI Recognized for Conservation Work in Sichuan
CHENGDU (May 26, 2014) – Yan Junqi, a Vice Chairman of the Standing Committee of the Chinese National People's Congress and also Chairman of the China Association for Promoting Democracy, spoke highly of the Global Environmental Institute's (GEI) Conservation Concession Agreement (CCA) mechanism, a conservation and economic development mechanism adopted from Peru.
GEI's Mme Jin Jiaman (back row second from right) and WANG Aimin (back row, far left) – GEI 2014
Ms. Yan also visited the Fengtongzhai National Nature Reserve located in Baoxing County, Ya'an, Sichuan Province, where GEI successfully implemented the CCA mechanism to help solve environmental protection problems in the area.
On May 26th, Wang Aimin, biodiversity conservation program officer at GEI, was invited to make an address at the opening ceremony of the "2014 Yangtze River Protection and Development Forum" held in Chengdu, Sichuan province. Mr. Wang introduced the localization and implementation of the CCA mechanism, along with its achievements in a speech titled "China Mode – Community-driven Conservation Concession Agreements".
After carefully listening to the report, Ms. Yan made references to GEI's CCA mechanism on two occasions and emphasized how it can benefit multiple stakeholders and is worth learning from and promoting further. In the evening, Ms. Yan, together with Wei Hong, the vice secretary of the CPC Sichuan Provincial Committee and also the governor of Sichuan province, invited Jin Jiaman, GEI's executive director, for further talks.
During the talks, Ms. Yan once again gave high praise to GEI for the implementation of its innovative mechanism, and in particular GEI's open mindedness to learn new methods, eight years' practical experience and the parallel way of governmental implementation and nongovernmental implementation. 
The next day, Ms. Yan, accompanied by Jin Jiaman and Wang Aimin, visited GEI's project site in Baoxing county, Sichuan province to gain a further understanding of the implementation of the CCA mechanism.
GEI's Mme Jin listens on as Wang Aimin addresses the crowd and media – GEI 2014
In front of posters featuring pictures and diagrams, GEI program officer Wang Aimin depicted in detail to Ms. Yan the implementation, achievements, and impact of GEI's CCA project in the Fengtongzhai National Nature Reserve.
GEI's Wang Aimin (right) listens to Xiong Jihua (left) – GEI 2014
Xiong Jihua, leader of the Lüyuan Breeding Cooperative of the Fengtongzhai Nature Reserve supported by the GEI project, elaborated on the operation and management of the cooperative, and the income change of households involved. Ms. Yan gave full attention to the introductions provided and put forward her own questions.
About GEI's Biodiversity Program & the CCA
GEI's Biodiversity program team is  committed to promoting the economic development of communities adjacent to nature reserves, balancing the conflict between biodiversity conservation and regional economic development. This led GEI to import and introduce the CCA mechanism as a basic methodology to achieve this. It has now been eight years since GEI started its pilot project in Baoxing county, Sichuan province in 2006.
GEI's Conservation Concession Agreement (CCA) is a mechanism for achieving environmental protection and sustainable resource utilization based on a contractual agreement between nature reserves and local communities who agree to help protect the reserves. The CCA mechanism provides an alternative to traditional resource development models and is a flexible model for conservation. It is distinct from traditional forms of conservation models, which strictly prohibit resource development. The CCA model does not restrict resource development outright; instead, it promotes rational and sustainable resource utilization techniques to incentivize community participation in environmental protection. One feature of the CCA mechanism is that it motivates the owners of natural resources to protect them, while also being a market mechanism with the genuine purpose of environmental protection.
Mentioned in the Media:
"2014 Yangtze River Conservation and Development Forum" Discusses Water-ecological Civilization System Construction of Yangtze Region (Sichuan Daily 22219-01, May 27, 2014)
Sichuan Governor Congratulates on "2014 Yangtze River Conservation and Development Forum" at Chengdu (Sichuan TV.cn, May 27, 2014)
"2014 Yangtze River Conservation and Development Forum" Launches at Chengdu (Sichuan News – Sichuan TV, May 27, 2014)
"2014 Yangtze River Conservation and Development Forum" Launches at Chengdu (The Ministry of Water Resources of the People's Republic of China, May 28, 2014)
Yan Junqi Emphasizes Eco-civilization When Investigating in Ya'an (Ya'an Daily, May 28, 2014)
Yan Junqi Leading Investigation Delegation Investigates Ya'an on Its Economic Development and Biodiversity Protection (Ya'an TV, May 28, 2014)
Yan Junqi Visits GEI Conservation Concession Agreement (CCA) Project at Baoxing, Sichuan Province (Baoxing News – Baoxing TV, May 28, 2014)
Cooperation on Building Ecological Yangtze River – "2014 Yangtze River Conservation and Development Forum" (Propaganda Department of China Association for Promoting Democracy, June 4, 2014)