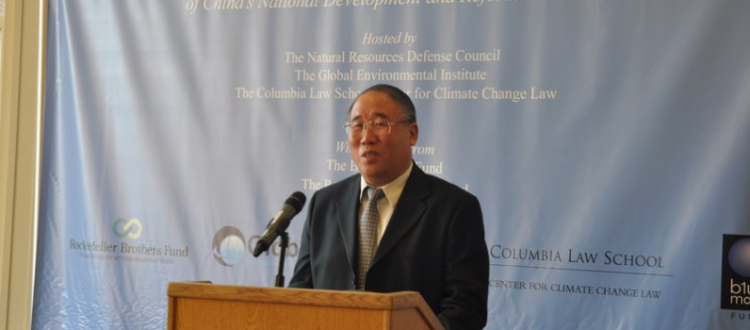 GEI Organizes High-Level US-China Climate Talks
WASHINGTON (Sept. 13, 2011) – Through coordination of the Global Environmental Institute (GEI) and other organizations, Mr. Xie Zhenhua, Deputy Director of China's National Development and Reform Commission (NDRC) recently engaged in a fruitful dialogue with US think tanks and NGOs about climate change and the reality in China.
Minister XIE Zhenhua addresses the experts – GEI 2011
The dialogue was held on September 13, 2011 by GEI and the US-based Natural Resources Defense Council (NRDC) at the Center for Climate Change Law at Columbia University's Law School, with support from the Rockefeller Brothers Fund and the Blue Moon Fund.
As the dialogue's featured speaker, Minister Xie gave insight into China's perspective on US-China climate collaboration and the future of climate policy in China.
US – China Collaboration
Minister Xie recognized that both the US and China are major greenhouse gas emitters, but pointed out that while the two countries remain at different stages of development, two sides should make joint efforts and strengthen dialogue and cooperation. Along these lines, Minister Xie praised GEI for its China-US Track II Dialogue on Climate Change project, which facilitates informal dialogues between high-level policymakers in the two countries on climate change. Meanwhile, he also called on China and the US to initiate dialogue at the non-governmental level. Minister Xie also expressed hope that the US can assume a leadership role globally in the response to climate change.
China's Climate Policy & Actions
During the dialogue, Minister Xie gave a detailed introduction and explanation of China's actions and planning in response to climate change, and expressed hope for deepened cooperation between the two countries and joint research on carbon utilization in the future. China hopes that to gain more knowledge of low carbon technologies like smart grids and efficient buildings from the US, so as to avoid a lock-in effect in future investments.
Minister Xie noted that due to historical reasons, China faces challenges on the availability and accuracy of its data, but also explained China's intent to be transparent and to learn from US experiences in energy accounting.
Carbon Utilization
According to Minister Xie, another challenge the China and the US is facing is the dependence on coal as the main energy source. Therefore, Minister Xie believes mere capture and storage of carbon will not be enough, but that the countries will need to employ a carbon capture, utilization and storage strategy (CCUS) in the future in order to effectively manage carbon emissions.
Domestic Carbon Trading
In response to a question on whether China would be capping overall carbon emissions, carbon tax or implementing a carbon emissions trading scheme, Minister Xie clarified China's intention to launch pilot emissions trading schemes (ETS). Having learnt from experiences in Germany and the United Kingdom, Minister Xie added, China has set up ETS pilot agencies in Beijing, Tianjin, Shanghai, Shenzhen and Guangzhou and expansion is expected.
Controlling Overall Energy Consumption
Minister Xie noted that to reach the energy targets of the 12th Five Year Plan, China will slow down its rate of economic growth, with GDP growth declining by 7-8%. During this period, China will explore measures for transforming its model of development, including controlling overall energy consumption, thereby reducing energy and carbon intensity.
New Energy
In the future, China will support the development of new industries through new economic policies, including awards for energy conservation retrofitting as well as energy efficiency development, energy management contracts, priority pricing and other policy incentives to develop new enterprises and technology innovation. China will also assist in providing loans to energy conservation and environmental protection enterprises; increase prices of water and coal resources; using price levels to guide production and consumption, and enact a series of policies to encourage structural energy conservation, as well as energy conservation in technology, transportation and buildings. Finally, Minister Xie said that China would invest RMB 3-4 trillion in the development of new energy, which will have a driving effect of RMB 7-8 trillion.
Development of Nuclear Energy
Minister Xie gave a clear response to the US concerns as to whether it could realize the non-fossil fuel target in its 12th Five Year Plan without relying on nuclear energy.
He explained that the nuclear accidents experienced in Fukushima, Japan and in France will not shake China's confidence in developing nuclear energy. China's suspension of all nuclear projects currently under construction and waiting for approval is simply for the purpose of guaranteeing their safe operation in the future.
Minister Xie stressed that the development of nuclear energy would be indispensable to realizing China's energy mix target of 15% non-fossil fuel energy as primary energy by 2020.
Around 20 US think tanks and other organizations attended the dialogue, including the Blue Moon Fund, Rockefeller Brothers Fund, NRDC, Columbia University, the Council on US China Relations, the Peterson Institute for International Economics, Council on Foreign Relations, the Worldwatch Institute, the World Resources Institute, Resources For the Future, the Brookings Institution, New York University, the Climate Group, the United Nations Foundation, the Center for Climate Strategies, the Innovation Center for Energy and Transportation and the Environmental Defense Fund.